Reporte TEC 2016-09-08
Posted by: Maria Sergeeva 6 years, 6 months ago
Ionosfera sobre México.
El contenido total de electrones (TEC) es es un parámetro que sirve para caracterizar el estado de la ionosfera de la Tierra.
La trama de los valores de TEC vertical y valores medianas de TEC vertical sobre México en base de GIM TEC JPL para la estacion INEG (Aguas Calientes) durante 30.08-05.09.2016:

Variaciones temporales de desviación de TEC de su mediana de los 27 días  anteriores al día de observación DTEC=log(TEC/TECmed) y Indice W (ionospheric weather index):

Referencia: Gulyaeva, T.L., F. Arikan, M. Hernandez-Pajares, I. Stanislawska. GIM-TEC adaptive ionospheric weather assessment and forecast system. J. Atmosph. Solar-Terr. Phys., 102, 329-340 doi:10.1016/j.jastp.2013.06.011, 2013.
La trama de los valores de TEC vertical durante 01-07.09.2016 en base de los datos de las estaciones locales MBIG, UCOE, SABY y la estación INEG de GIM TEC JPL: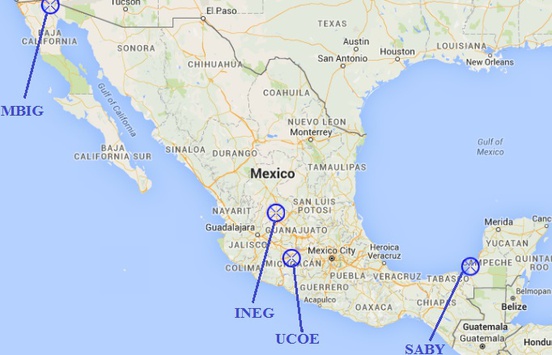 Referencia: El cálculo se realiza en base de TayAbsTEC software del Instituto de Física Solar-Terrestre, Sección Siberiana de la Academia de Ciencias de Rusia.
Yu.V. Yasyukevich, A.A. Mylnikova, V.E. Kunitsyn, A.M. Padokhin. GIM Influence of GPS/GLONASS Differential Code Biases on the Determination Accuracy of the Absolute Total Electron Content in the Ionosphere. Geomagnetism and Aeronomy, 2015, Vol. 55, No. 6, pp. 763–769, ISSN 0016_7932.
Share on Facebook
Siguientes artículos