Reporte TEC 2016-04-21
Posted by: Maria Sergeeva 6 years, 11 months ago
Ionosfra sobre México.
La trama de los valores de vTEC y valores medianas de vTEC de Mexico en base de GIM TEC JPL para estación INEG (Aguas Calientes, México) durante 12-17.04.2016:

Variaciones temporales de desviación de TEC de su mediana de los 27 días anteriores al día de observación DTEC=log(TEC/TECmed) y Indice W (ionospheric weather): estación local UCOE y estación INEG de GIM JPL

Referencia: Gulyaeva, T.L., F. Arikan, M. Hernandez-Pajares, I. Stanislawska. GIM-TEC adaptive ionospheric weather assessment and forecast system. J. Atmosph. Solar-Terr. Phys., 102, 329-340 doi:10.1016/j.jastp.2013.06.011, 2013.
La trama de los valores de vTEC durante 13-18.04.2016 en base de los datos de estación INEG (GIM TEC JPL) y estación local UCOE (Coeneo, Mich.). También están indicados los valores medianos para UCOE: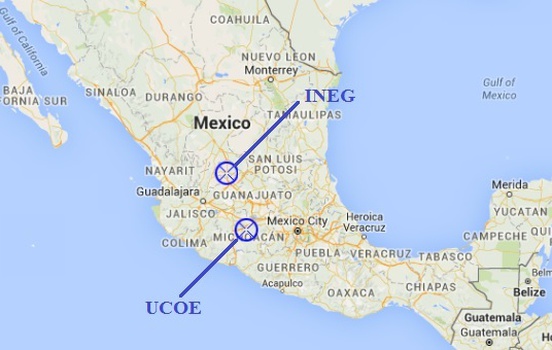 Referencia: El cálculo se realiza en base de TayAbsTEC software del Instituto de Física Solar-Terrestre, Sección Siberiana de la Academia de Ciencias de Rusia.
Yu.V. Yasyukevich, A.A. Mylnikova, V.E. Kunitsyn, A.M. Padokhin. GIM Influence of GPS/GLONASS Differential Code Biases on the Determination Accuracy of the Absolute Total Electron Content in the Ionosphere. Geomagnetism and Aeronomy, 2015, Vol. 55, No. 6, pp. 763–769, ISSN 0016_7932.
Share on Facebook
Siguientes artículos