Reporte TEC-1 2018-07-19
Posted by: Maria Sergeeva 4 years, 8 months ago
Ionosfera sobre México: TEC en el centro del pais.
El contenido total de electrones (TEC) es un parámetro que sirve para caracterizar el estado de la ionosfera de la Tierra.
Datos locales.
Serie temporal de los valores de TEC (rojo) con referencia a su valor mediano (azul claro) durante 12-16.07.2018 con base en los datos de la estación local UCOE (TLALOCNet, UNAVCO) en las instalaciones del Mexart: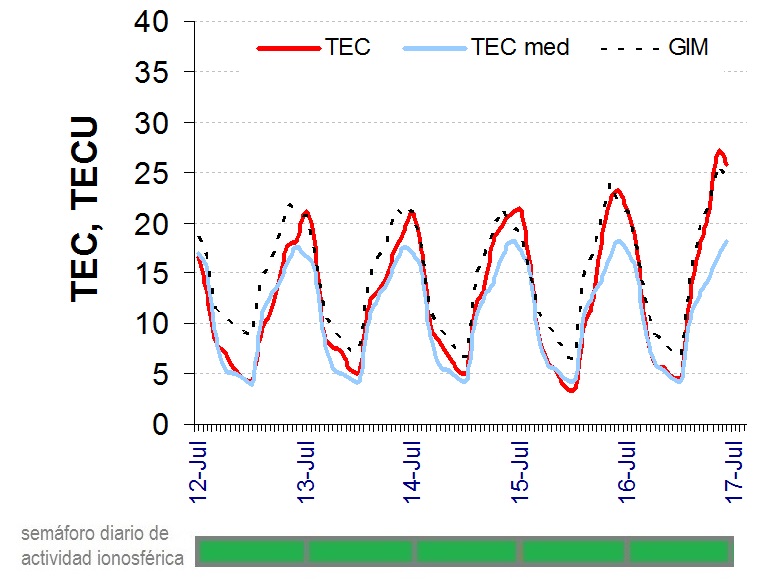 Según los datos locales, se observaron los valores de TEC aumentados el 15 y el 16 de julio. Estas variaciones no son significativas.
Datos locales están confirmados con datos globales de GIM (punteado).
El cálculo se realiza en base de TayAbsTEC software del Instituto de Física Solar-Terrestre, Sección Siberiana de la Academia de Ciencias de Rusia.
Referencia: Yasyukevich et al., Influence of GPS/GLONASS Differential Code Biases on the Determination Accuracy of the Absolute Total Electron Content in the Ionosphere, Geomagn. and Aeron., ISSN 0016_7932, 2015.
Share on Facebook
Siguientes artículos